Our Educational Mission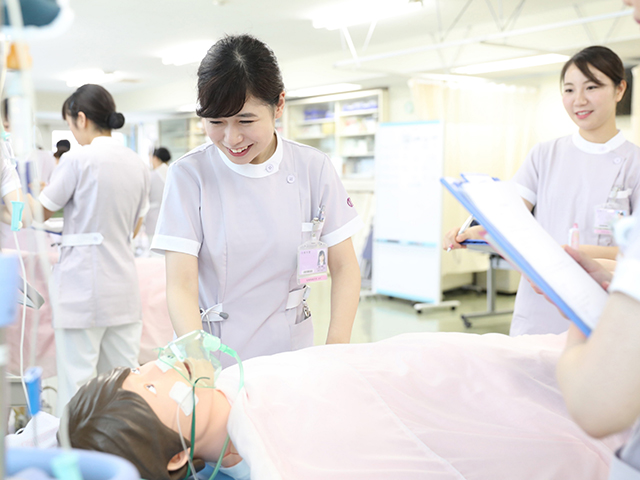 The Faculty of Health Care and Nursing provides students wishing to become nurses, public health nurses, and midwives with the education required to graduate after four years and pass the relevant national examinations.
Nursing education at Juntendo has a history dating back 123 years and seeks to maintain the tradition of holistic education cultivated over this period, while training nursing professionals who are highly intelligent, have a well-rounded education, and demonstrate compassion and humanity.
The faculty's educational philosophy focuses on nursing that heals the mind, not just the body. This is based on the spirit of the university motto jin (benevolence), which means "I exist as you exist, with a heart that considers and cherishes others.
" More specifically, we respect the individuality of each and every person, with students and faculty members forging a close relationship through nursing education, extracurricular activities, and the like. We give consideration in the educational process to ensuring that you can enjoy an enriching student life. We hereby disclose to students, staff and faculty members the following educational mission, with the aim of maintaining and developing this educational environment.
We regard classes not solely as a means of passing on knowledge and techniques, but also as a place for education that cultivates a sense of humanity through face-to-face communication between faculty members and students. The same applies to clinical placements (the generic term for practicums outside the university, in settings such as hospitals, public health centers, and patients' homes) outside the classroom.
Teachers have a responsibility to educate students, while students have a responsibility to learn. In particular, students in the Faculty of Health Care and Nursing must be aware that failure to study is an impediment to the delivery of patient/family centered team-based medicine.
By educating students, faculty members also educate themselves. Faculty members must be aware that constantly devising ways to improve students' motivation to learn leads to further enhancement of the educational system, as well as leading to an increase in the standard of faculty members' activities not only in the field of education at Juntendo, but also in the research arena.
Across the whole curriculum, faculty members strive to impart to the next generation what they themselves have learned in a manner that is easier to understand. The real test of faculty members' skills will be whether or not they can transform students' attitude to learning from passive to active, so that students demonstrate a willingness to take the initiative and learn for themselves. Teaching is about more than just setting assignments. Seminars also are highly valued, even when dealing with themes outside faculty members' fields of specialism.
Not only faculty members, but also administrative staff and everyone else employed at Juntendo are aware that they are all closely involved in educating students. The history of nursing at Juntendo dates back to1868, when Sugimoto Kane became the very first nurse in Japan. Under the guidance of second Juntendo director Sato Takanaka and others, she became Japan's first professional nurse in 1873 when she was appointed as head nurse of Juntendo Hospital. Systematic nursing education at Juntendo began in 1896, with the opening of its nurse training school. Over the 123 years since then, Juntendo has trained nurses, public health nurses, and midwives capable of practicing nursing that heals the mind, not just the body, based on the spirit of jin (benevolence), which means "a heart that considers and cherishes others." This tradition of nursing education can be seen in the 99% average pass rate achieved by this faculty's alumni in the National Nurse Examination over the past five years.
Features of the Faculty of Health Care and Nursing
We value holistic education aimed at shaping an appealing human with an abundant, well-rounded education.
We offer education in partnership with the Faculty of Medicine, Faculty of Health and Sports Science, Faculty of Health Science and Nursing, Faculty of International Liberal Arts, and Faculty of Health Science. Students, staff, and faculty members work together not only in the areas of education and research, but also in cultural and sporting club activities.
We have a range of hospitals suited to nursing practicum goals. Students can do their practicums at affiliated hospitals with distinctive features, such as an advanced treatment facility, a hospital specializing in geriatric medicine, an emergency and critical care hospital to which patients are brought by helicopter air ambulances, a regional care hospital, and a psychiatric hospital.
Through the academic advisor system, we provide students with support to enable them to lead an enriching student life that will assist them in delivering the kind of nursing that they themselves envisage.
We maintain close educational partnerships with Juntendo's affiliated hospitals. The whole university works together to provide powerful support in everything from education through to job-hunting and postgraduate education, with nurses at the Faculty of Medicine's six affiliated hospitals providing students with education and guidance as clinical instructors within our faculty.
We provide education aimed at cultivating nurses capable of playing an active role in the international arena. We offer English, French, and Chinese courses, enabling students to study conversation with native speakers of those languages. Students can also undertake overseas nursing internships in such countries as the USA, the UK, and Thailand. (Places are limited. Costs are borne by the student. Credits are awarded in some cases.) We are looking forward to welcoming students from across Japan who have a desire to acquire knowledge, a sense of initiative, and the jin spirit that cherishes others, to study at the Faculty of Health Care and Nursing.
Study Abroad
We provide nursing training in the United States, the United Kingdom, Thailand, and other countries with the aim of understanding different cultures, developing nursing practice and research from a global perspective, and cultivating basic skills that help develop leaders in the field of cross-cultural nursing.
British Nursing and English Language Training (About 14 days)
Training destination De Montfort University (DMU)
During training, participants stay in a DMU dormitory, where they are able to deepen linguistic and cultural understanding through English lectures and interactions with British nursing students. In addition, nursing lectures by lecturers from British nursing universities and a tour of a medical welfare facility are also held.
United States (Portland) Nursing Training (About 10 days)

Training destination Portland State University (PSU), Oregon Health & Science University (OHSU), etc.
During the training, participants will stay with a local family in Portland. Lectures will be given by instructors from the American nursing universities and there will also be visits to universities and medical welfare facilities. Furthermore, through discussions and exchanges with American nursing students, participants will be able to gain an understanding of different cultures.
United States (Miami) Nursing Training (About 10 days)

Training destination University of Miami, University of Miami Health System, affiliated hospitals, etc.
Nursing training is conducted at the University of Miami in Florida, USA.
Miami is an international city located on the tip of the Florida Peninsula. It is also the gateway to Latin America and the Caribbean, home to people with diverse backgrounds.
Nursing training in Miami includes simulation studies at the University of Miami Simulation Hospital and clinical training at affiliated and related hospitals. The purpose of this program is to provide a global perspective on nursing through experiences of the actual conditions of nursing in the United States.
Thailand Nursing Training (About 10 days)
Training destination Thammasat University
During the training, participants stay in the student dormitory of Thammasat University, visit university hospitals and medical facilities, and practice shadowing. In addition, through discussions and exchanges with students of Thammasat University, participants will learn about the way nursing is adapted to fit the culture and characteristics of Thailand.