Characteristics
Point 1 Physical therapy and radiological technology studies linked by sportology
Point 2 Close ties to affiliated hospitals
Point 3 Fulfilling educational environment equipped with the latest facilities
Point 4 Well-developed education and leadership systems led by highly experienced faculty members
Point 5 Internationalization and cultivation of personnel with a global outlook through partner universities overseas
Department of Physical Therapy
Become a physical therapist with your pick of career options. Develop a richness of spirit and reliable skills We aim to cultivate world-class medical professionals capable of responding to changing times.


Cultivating excellent physical therapists
Physical therapists who get results are needed in clinical practice today. In this department, you will spend four years learning about diverse cases and treatments, while coming into contact with front-line medical care thanks to our close proximity to Juntendo's affiliated hospital. You will hone your practical skills through abundant experience of active learning.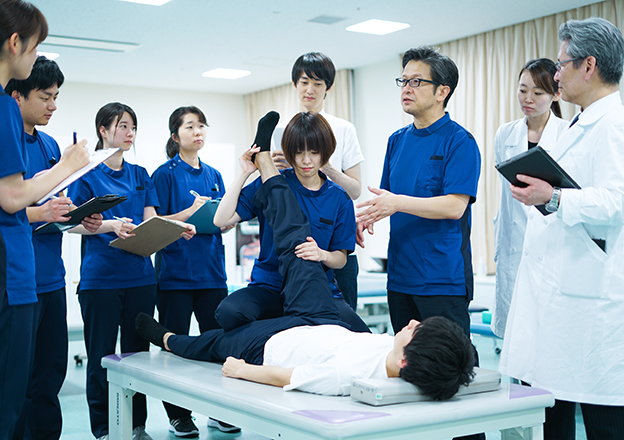 Learning supported by a top-notch faculty team
Every year group from first to final benefits from small seminars, with meticulous guidance provided to ensure that you learn the mental attitude required of a medical professional. Our team of highly experienced faculty members who are active in the worlds of both clinical practice and research will provide seamless support in your graduation research, preparation for national examinations, and efforts to find a job.
Become a world-class medical professional
The aging of populations is already a global problem. It is now quite common for medical professionals from overseas to visit Juntendo to learn about physical therapy in Japan. Our department offers an abundant array of opportunities to hone your linguistic ability and international outlook, and will cultivate your ability to provide excellent medical care to people around the world.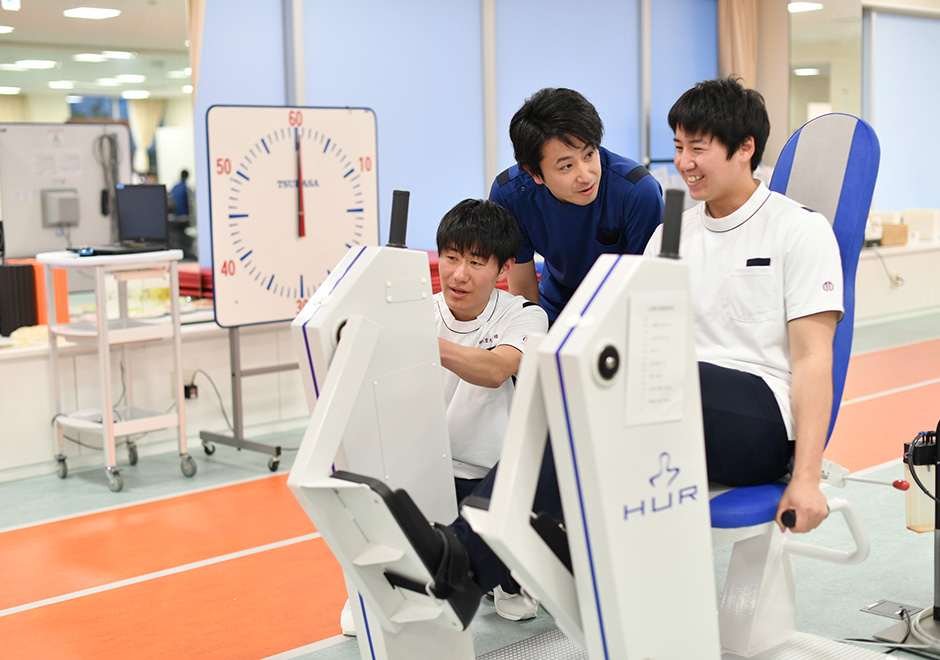 Department of Radiological Technology
This department nurtures clinical radiological technologists to serve as medical professionals capable of playing an active role in the vanguard of medical care. Radiological technologists play a vital role medical professionals in departments of diagnostic radiology, nuclear medicine, and radiotherapy.
Faculty members are medical professionals
Physicians and radiological technologists with a wealth of clinical experience as professionals painstakingly provide each and every student with guidance to foster medical professionals equipped with the spirit of the university motto, jin (benevolence). (Imparting accurate knowledge and skills.)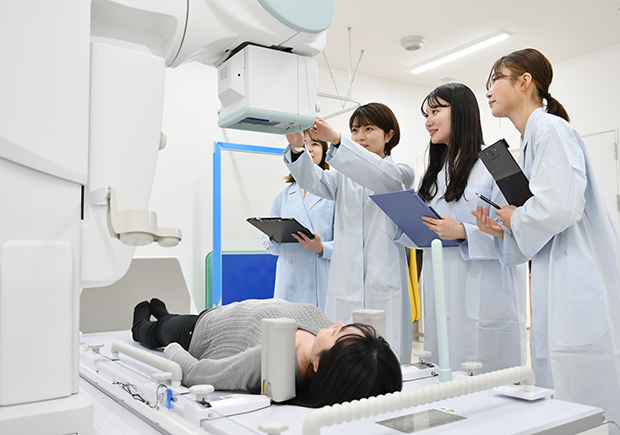 Real-life experiences help you to achieve your dream
We are fully equipped with a clinical practice framework closely linked to Juntendo's affiliated hospitals and also have systems for gaining clinical practice at many other institutions, such as non-affiliated general hospitals. You will acquire precise technical skills and hone your ability to make your own dreams come true as a medical professional. (Acquiring solid skills to achieve your goals)
Become a medical professional for the international age
Foreign-language communication skills are required of physicians and medical professionals such as radiological technologists, to ensure that they can assist the growing number of international patients visiting hospitals. We strive to improve language skills through partnerships with overseas universities, as well. We will also develop systems to enable faculty members and students alike to take advantage of this environment and increase their foreign language skills, along with their expertise and other skills. (Cultivating true communication skills)
Our Educational Mission
This faculty requires students with the following qualities in order to cultivate medical professionals (physical therapists and radiological technologists) equipped with a strong ethical perspective and a richness of spirit, who will deliver the safe, reliable, high-quality medical care nurtured by Juntendo's long history and traditions, based on the spirit of the university motto jin (benevolence).
Whole Faculty
People who are sympathetic to the jin spirit, who demonstrate compassion and consideration for others.
People who are interested in the discipline that they plan to study after enrollment and have the attitude and willingness required to actively learn for themselves.
People who have a richness of spirit, flexibility, and a cooperative nature, who can work in partnership and harmony with others.
People with the desire to make a wide-ranging contribution to the fields of health care, medical care, and welfare, both within Japan and overseas.
People who actively learn widely at high school, etc. and have the basic academic skills required to study after admission.
People who are equipped with the appropriate attitudes to lifestyle and look after their mental and physical health.
Department of Physical Therapy
People who are attentive, watchful, and considerate, who value relationships with others, and who are capable of thinking about things from the other person's standpoint.
People who are interested in the mechanisms of human movement and exercise.
People with a powerful desire to become physical therapists, who can find various ways to achieve their goals and can maintain tenacious effort.
People who are interested in social developments and have communication skills.
Department of Radiological Technology
People who are caring and considerate of others, and who think about things from the other person's standpoint.
People who are interested in the life sciences or radiology and have the desire to contribute to society in various fields in the future.
People who aspire to learn and take on challenges, and are keen to study tenaciously and independently.
People who are interested in social developments and have communication skills.