Our Educational Mission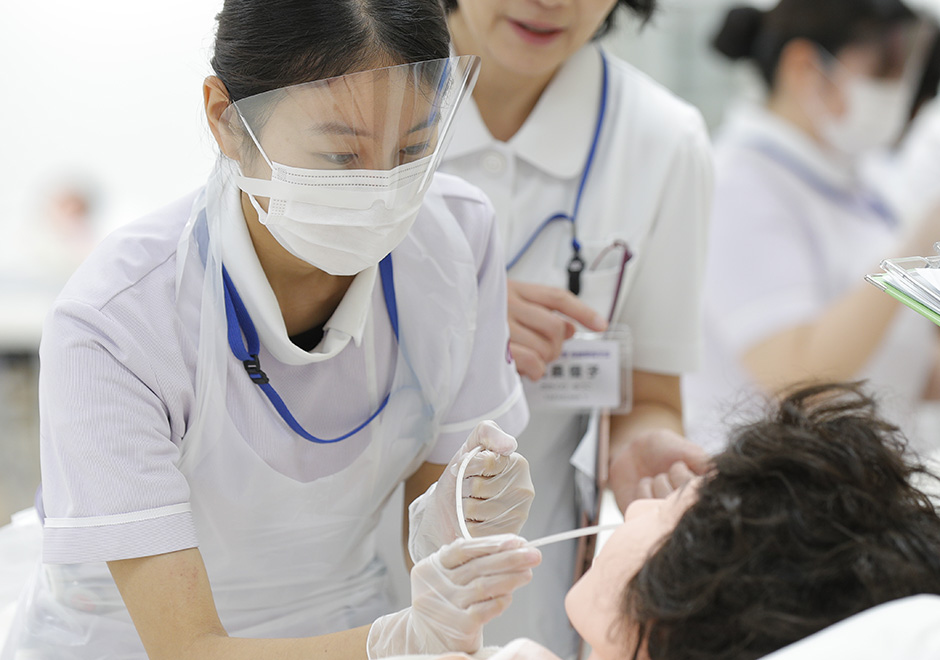 The Faculty of Health Science and Nursing provides students striving to become nurses or public health nurses (hereinafter "nursing professionals") with the education required to graduate after four years and immediately pass the National Nurse Examination or National Public Health Nurse Examination. We regard your university years as the time in your life when you undergo the greatest growth as a person, so staff and faculty members work in harmony to provide you with the education needed to become a nursing professional who is highly intelligent, has a well-rounded education, and demonstrates abundant sensitivity.
As the only four-year faculty of nursing in eastern Shizuoka Prefecture, we have an educational philosophy (educational policy) of practicing nursing that heals both body and mind, based on the spirit of jin (benevolence) that is the university's motto and maintaining Juntendo's tradition of nursing education stretching back more than 120 years. Jin is a very important word that underpins Juntendo University's overall approach and its attitude to education and research. Jin means a heart that considers and cherishes others.

Making full use of the environmental advantages of our location in Mishima, just 50 minutes or so from Tokyo Station, we give consideration in the educational process to academic initiatives based on partnerships with the Faculty of Medicine, Faculty of Health and Sports Science, Faculty of Health Care and Nursing, Faculty of International Liberal Arts, and Faculty of Health Science, putting in place an education and research system befitting of a comprehensive health university. We hereby disclose to students and faculty members the following educational mission.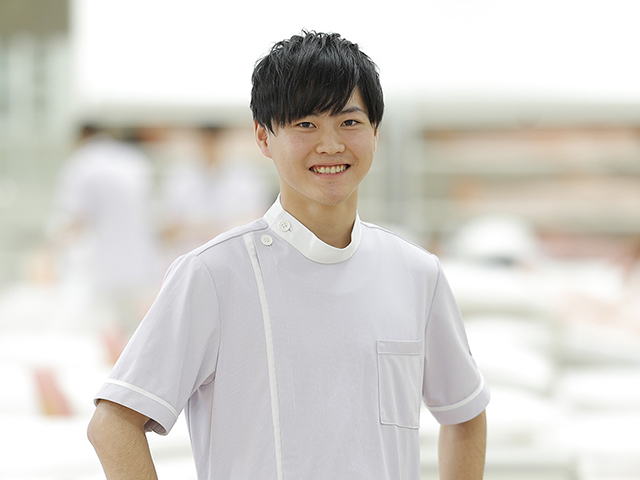 We regard university as a place where students themselves actively learn and a place for education that enables students to use their creativity to establish their selves and become independent.

We regard classes not solely as a means of passing on knowledge and skills, but also as a place for cultivating a sense of humanity through communication between faculty members and students.

Teachers have a responsibility to educate, while students have a responsibility to learn.


Remarkable progress and change occur in the fields of health science, medicine, and welfare, so faculty members and students alike must be aware that failure to study is an impediment to the delivery of team-based medicine and health activities centered on prevention and on maintaining and improving the health of the patients, family members, and communities concerned.

As part of our measures to address university globalization, we aim to ensure that students improve their TOEFL scores.

Features of the Faculty of Health Science and Nursing
Juntendo has a tradition of nursing education dating back more than 120 years. Building on the achievements of the existing Faculty of Health Care and Nursing, we have put in place the very latest educational facilities and equipment.
→ We are also equipped to deal with electronic medical records and other aspects of the IT age.


Our faculty members, who have a wealth of experience in education and clinical practice, maintain close relationships with the students.
→ Communication with faculty members enables students to learn a great deal from their seniors, both as nursing professionals and about life.


In addition to full-time academic staff, doctors, nurses, and technologists from the Faculty of Medicine's Shizuoka Hospital, which is the core hospital for eastern Shizuoka Prefecture, work in close partnership with us to deliver education.
→ Practicum instructors in clinical settings also serve as clinical nursing lecturers, carefully coordinating education in practical nursing settings and within the university, so that students can make a smooth transition to nursing practice after finding employment.


From the first year onward, with the assistance of emergency and critical care center doctors, flight nurses, anesthesiologists, and firefighters, students receive practical training at the university in the use of automated external defibrillators (AEDs) and advanced dummies that enable students to put critical care techniques into practice.
→ Students who take this class will be awarded a completion certificate for the Japanese Association for Acute Medicine's Immediate Cardiac Life Support (ICLS) course. It enables students to learn based on a vision for becoming immediately effective nurses who are capable of dealing with disasters.


As medical care becomes more advanced and specialized, and people's needs increasingly diverse, we are providing basic nursing education that will enable students to provide safer, more reassuring, higher-quality nursing.
→ As nurses, students will be able to provide heartwarming, creative care based on sound skills.
The emergency and critical care center is a key treatment field at Juntendo's Shizuoka Hospital, which is also the operational base hospital for the eastern and central Shizuoka Prefecture helicopter air ambulance. With flight nurse training set to become an increasing focus, you will be able to gain highly valuable experience not available elsewhere.
We hope that you will enjoy spending four years at our faculty developing your physical and mental capabilities, and go on to achieve your dreams based on the specialist nursing skills cultivated here. Nursing professionals are in great demand and you will find it to be a highly rewarding and profound occupation.
Study Abroad
The Faculty of Health Science and Nursing is committed to international exchange, providing training at overseas nurse training facilities. Its goal is to ensure students develop international perspectives while making the most of their daily learning.
Overseas Training JINS

Since 2013, the Faculty of Health Science and Nursing has been conducting overseas training for 3rd year students, during which they visit hospitals, nurse training schools, nursing homes for the elderly, and integrated elementary and junior high schools in Finland and Sweden in Northern Europe. There are 30 participants every year. At each destination, there was a lively exchange of opinions on the medical situation in Finland, and the training provided fruitful opportunities to experience different cultures. JINS stands for Juntendo International Nursing Seminar, and ties in to the university motto of "Jin – I exist as you exist."