Our Educational Mission
Taking the spirit encapsulated by the university motto jin (benevolence) as our basic principle, Juntendo University's Faculty of International Liberal Arts provides education aimed at cultivating global citizens with the desire to contribute to improving sustainability, multicultural societies, and human welfare by gaining the foreign language skills required in the international community, along with a wide-ranging, well-rounded general education in culture, history, economics, and natural science, and a grounding in global societies, intercultural communication, and global health services.
The educational objective of the Faculty of International Liberal Arts is to cultivate global citizenship so as to enable students to contribute to the creation of a sustainable future. Securing diversity is essential to ensuring that humanity's future is sustainable, so global citizens capable of helping to build multicultural, multilingual societies will be required.
This faculty requires well-motivated students who understand our educational philosophy and are equipped with the qualities required to become global citizens who will contribute to a multicultural society.
What Kind of Students Are We Seeking?
People who are interested in the true state of our globalized world, its challenges and background, and diverse cultures and people, and who dream of trying to contribute to a sustainable future for humanity.
People who aim to contribute to a multicultural society as global citizens and who want to continue learning independently for the rest of their lives.
People who wish to understand and interact with people from other countries by communicating in other languages, based on their own identity and native language skills.
Subjects and Disciplines That Prospective Students Should Study before Enrollment
The Faculty of International Liberal Arts would like prospective students to study the following subjects and disciplines at high school, etc. before enrolling in university.
English and Japanese language: Communication skills, basic reading comprehension skills, ability to express oneself, and thinking skills, which are required to enable you to play an active role in the international community.
Social studies: A basic knowledge of the geography, history, or civics required for an interest in and understanding of the international community.
Science and mathematics: A basic knowledge of the natural sciences required to understand biological phenomena, health care and medical care, including biology, chemistry, and mathematics.
Initiative, independence, and a positive attitude cultivated through extracurricular activities, volunteer activities, and overseas experience, among others.
Basic Admissions Policy
Our faculty makes an active effort to accept students with diverse backgrounds by combining multiple methods for selecting university entrants. When deciding which candidates to accept for admission, we make a decision that takes a comprehensive range of factors into consideration in our assessment, including not only academic performance and activities at high school and the like, but also volunteer and other activities. The international liberal arts education provided by the Faculty of International Liberal Arts over four years is an academic program that cultivates global citizens, based on the university motto jin, its guiding principle of fudan zenshin (continuously moving forward), and the school culture of sanmu shugi, which means that we do not discriminate against people on the grounds of gender, nationality, or academic background. The curriculum is composed as follows.
Introduction Period
Cultivating communication skills through foundation courses
You will gain experience of presentations in the first semester and facilitation in the second, thereby laying the foundations of the communication skills essential for global citizens.

Basic subjects that foster liberal arts with an international reach
Regardless of whether you intend to specialize in the humanities or science, you will take basic subjects including foreign languages and a wide-ranging general curriculum incorporating fields relevant to health and medical care, which will cultivate a broad and deep general education, richness of spirit, and an ethical perspective.

First- and second-year foreign language education based on plurilingualism and the languaculture approach
To enable you to become proficient in the foreign language communication skills that you will require as a global citizen, based on the principle of plurilingualism, you will take classes in not only international English, but also one other foreign language, choosing from French, Spanish, and Chinese. These classes will introduce the languaculture approach, which will give you the opportunity to study and gain first-hand experience of intercultural communication. We will measure improvements in your performance using TOEFL and other international standard tests for measuring language skills.

Introduction to three realms
In the first year, you will take Introduction to International Liberal Arts: Becoming a Global Citizen, in which you will learn about the three realms of Global Society, Intercultural Communication, and Global Health Service and their relationship to each other.

Formation Period
Advanced courses in the three realms
In the second year, when the formation period begins, you will take compulsory introductory courses in each realm and also choose a specific realm according to your interests. Advanced courses featuring subjects relating to the three realms form part of the curriculum from the third year. In the Global Society realm, you will learn about the problems of globalization with a view to creating a sustainable future. Global Health Service realm courses will teach you about issues concerning the body, health, and life in Japan and around the world, while in the Intercultural Communication realm, you will gain a profound understanding of the issues inherent in and represented by communication with different cultures, as well as learning ways of contributing to the construction of multicultural/ multilingual societies.


Specialist foreign language education and overseas study/training
We have put in place a range of English for Specific Purposes courses that enable you to study English independently with a view to your future career path and also offer advanced electives in French, Spanish, and Chinese. Paths to overseas study are available and we have put in place an overseas training program outside the normal curriculum.
Completion Period
Cultivation of multifaceted thinking across the three realms
The curriculum is arranged so that you will gain knowledge that will facilitate multifaceted thinking by studying class subjects in the other two realms, in addition to the one realm that you have chosen, so that your education cuts across all three realms.

Strengthening of specialist abilities through practical subjects
In Practical Learning for Global Citizenship during your third and fourth years, you will conduct research concerning issues related to your chosen realm of study.

Preparation of a graduation thesis
You will prepare a graduation thesis that incorporates learning from your chosen realm and also, in some cases, from the other realms.

Two-Pronged Approach to Career Development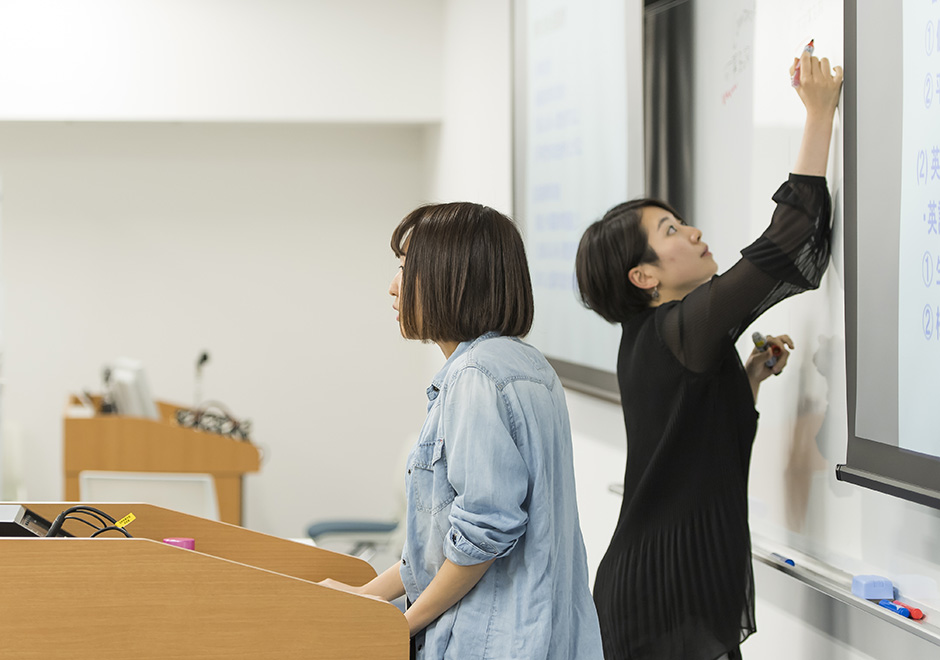 Award of credits for careers education
To encourage students' social and economic independence, we also place a great emphasis on enhanced careers education from the first year, immediately after enrollment, and have included careers education as part of the curriculum, enabling you to earn credits for these classes as regular subjects.

Teacher training program offering the chance to gain a teacher's license (English language)
If you earn the requisite number of credits by taking the designated courses, you can obtain the teacher's license required to become an English language teacher at junior and senior high schools.

Learning Method
Use of active learning to encourage initiative
Using small classes and cooperative learning as learning methods, this faculty practices active learning in which students engage independently.

Evaluation of Academic Achievements
Comprehensive evaluation of academic achievements
Your academic achievements will be evaluated comprehensively by means both of objective assessment based on performance in the courses that you have taken and subjective assessment in which you periodically evaluate your own performance based on competency clusters. We will use the results of evaluation to improve our education methods.