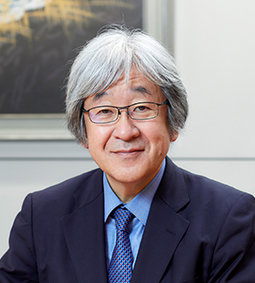 HATTORI Nobutaka, M.D., Ph.D. , FANA
Department of Neurology
Short Biography
1985-1986
M.D. Juntendo University Faculty of Medicine
Intern, Juntendo University Hospital
1986-1988
Resident in Neurology, Department of Neurology, Fuji, National Hospital
1988-1989
Assistant Professor of Neurology, Juntendo University
1990-1994
Ph.D. Juntendo University Graduate School of Medicine
1990-1993
Study Molecular Biology as a Special Graduate Student at Department of Biological Chemistry at the Faculty of Medicine, University of Nagoya
1994-1995
Medical Staff, Department of Neurology, Tokyo Metropolitan Ebara Hospital
1995-1998
Assistant Professor, Department of Neurology, Juntendo University
1999-2003
Lecturer, Department of Neurology, Juntendo University
2003-2006
Associate Professor, Department of Neurology, Juntendo University
2006-Present
Professor and Chairman, Department of Neurology, Juntendo University Faculty of Medicine
2019-Present
Dean, Faculty of Medicine and Graduate School of Medicine, Juntendo University
2020-Present
Team Leader, Neurodegenerative Disorders Collaborative Laboratory, RIKEN Center for Brain Science
Keywords
Parkinson's Disease
Neuro-Genetics
Autophagy Lysosome
Ubiquitin proteasome
Mitochondrial impairment
Main Research Topics and Interests
Familial Parkinson's disease
Ubiquitin proteasome
Autophagy lysosome pathway
Neurodegeneration
Mitochondria
iPS
Telemedicine
Publications (in English)
Original and Review Articles: 840
Books: 16
h-index: 80
Sum of Times Cited: 34,318
Recent Main Publications
Oji Y, Hatano T, Ueno SI, Funayama M, Ishikawa KI, Okuzumi A, Noda S, Sato S, Satake W, Toda T, Li Y, Hino-Takai T, Kakuta S, Tsunemi T, Yoshino H, Nishioka K, Hattori T, Mizutani Y, Mutoh T, Yokochi F, Ichinose Y, Koh K, Shindo K, Takiyama Y, Hamaguchi T, Yamada M, Farrer MJ, Uchiyama Y, Akamatsu W, Wu YR, Matsuda J, Hattori N. Variants in saposin D domain of prosaposin gene linked to Parkinson's disease. Brain. 2020 Apr 1;143(4):1190-1205.
Mori A, Hatano T, Inoshita T, Shiba-Fukushima K, Koinuma T, Meng H, Kubo SI, Spratt S, Cui C, Yamashita C, Miki Y, Yamamoto K, Hirabayashi T, Murakami M, Takahashi Y, Shindou H, Nonaka T, Hasegawa M, Okuzumi A, Imai Y, Hattori N. Parkinson's disease-associated iPLA2-VIA/PLA2G6 regulates neuronal functions and α-synuclein stability through membrane remodeling. Proc Natl Acad Sci U S A. 2019 Oct 8;116(41):20689-20699.
Meng H, Yamashita C, Shiba-Fukushima K, Inoshita T, Funayama M, Sato S, Hatta T, Natsume T, Umitsu M, Takagi J, Imai Y, Hattori N. Loss of Parkinson's disease-associated protein CHCHD2 affects mitochondrial crista structure and destabilizes cytochrome c. Nat Commun. 2017 Jun 7;8:15500.
Funayama M, Ohe K, Amo T, Furuya N, Yamaguchi J, Saiki S, Li Y, Ogaki K, Ando M, Yoshino H, Tomiyama H, Nishioka K, Hasegawa K, Saiki H, Satake W, Mogushi K, Sasaki R, Kokubo Y, Kuzuhara S, Toda T, Mizuno Y, Uchiyama Y, Ohno K, Hattori N. CHCHD2 mutations in autosomal dominant late-onset Parkinson's disease: a genome-wide linkage and sequencing study. Lancet Neurol. 2015 Mar;14(3):274-82.
Hattori N, Mizuno Y. Pathogenetic mechanisms of parkin in Parkinson's disease. Lancet. 2004 Aug 21-27;364(9435):722-4.
Shimura H, Schlossmacher MG, Hattori N, Frosch MP, Trockenbacher A, Schneider R, Mizuno Y, Kosik KS, Selkoe DJ. Ubiquitination of a new form of alpha-synuclein by parkin from human brain: implications for Parkinson's disease. Science. 2001 Jul 13;293(5528):263-9.
Shimura H, Hattori N, Kubo Si, Mizuno Y, Asakawa S, Minoshima S, Shimizu N, Iwai K, Chiba T, Tanaka K, Suzuki T. Familial Parkinson disease gene product, parkin, is a ubiquitin-protein ligase. Nat Genet. 2000 Jul;25(3):302-5.
Hattori N, Kitada T, Matsumine H, Asakawa S, Yamamura Y, Yoshino H, Kobayashi T, Yokochi M, Wang M, Yoritaka A, Kondo T, Kuzuhara S, Nakamura S, Shimizu N, Mizuno Y. Molecular genetic analysis of a novel Parkin gene in Japanese families with autosomal recessive juvenile parkinsonism: evidence for variable homozygous deletions in the Parkin gene in affected individuals. Ann Neurol. 1998 Dec;44(6):935-41.
Kitada T, Asakawa S, Hattori N, Matsumine H, Yamamura Y, Minoshima S, Yokochi M, Mizuno Y, Shimizu N. Mutations in the parkin gene cause autosomal recessive juvenile parkinsonism. Nature. 1998 Apr 9;392(6676):605-8.
Hattori N, Tanaka M, Ozawa T, Mizuno Y. Immunohistochemical studies on complexes I, II, III, and IV of mitochondria in Parkinson's disease. Ann Neurol.1991 Oct;30(4):563-71.
Other Specific Comments
The Commendation for Science and Technology by the Minister of Education, Culture, Sports, Science and Technology, Research Category, May 30, 2014
Newsweek ranked the Department of Neurology in Juntendo University Hospital as the 10th best hospital in the world for neurology in 2021, the highest ranking for a Japanese hospital. Newsweek. "World's Best Specialized Hospitals - Neurology." Newsweek, 2021 NEWSWEEK DIGITAL LLC, Nov 20, 2020,
Link
Department of Neurology