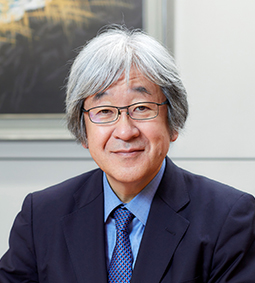 HATTORI Nobutaka, M.D., Ph.D. , FAAN
Department of Drug Development for Parkinson's Disease
Short Biography
1985-1986
M.D. Juntendo University Faculty of Medicine
Intern, Juntendo University Hospital
1986-1988
Resident in Neurology, Department of Neurology, Fuji, National Hospital
1988-1989
Assistant Professor of Neurology, Juntendo University
1990-1994
Ph.D. Juntendo University Graduate School of Medicine
1990-1993
Study Molecular Biology as a Special Graduate Student at Department of Biological Chemistry at the Faculty of Medicine, University of Nagoya
1994-1995
Medical Staff, Department of Neurology, Tokyo Metropolitan Ebara Hospital
1995-1998
Assistant Professor, Department of Neurology, Juntendo University
1999-2003
Lecturer, Department of Neurology, Juntendo University
2003-2006
Associate Professor, Department of Neurology, Juntendo University
2006-Present
Professor and Chairman, Department of Neurology, Juntendo University Faculty of Medicine
2019-Present
Dean, Faculty of Medicine and Graduate School of Medicine, Juntendo University
2020-Present
Team Leader, Neurodegenerative Disorders Collaborative Laboratory, RIKEN Center for Brain Science
Keywords
Parkinson's Disease
Levodopa
Alpha Synuclein
Lipid Metabolism
Antibody therapy
Main Research Topics and Interests
Parkinson's disease
Autophagy lysosome pathway
Prion-like Propagation
Levodopa therapy
Publications (in English)
Original and Review Articles (792)
Books (16)
Citation Index (31,512)
h-index (77)
Recent Main Publications
Hattori N. Movement disorders: advances in 2015. Lancet Neurol. 2016 Jan;15(1):8-9. doi: 10.1016/S1474-4422(15)00362-2. Review.
Hatano T, Saiki S, Okuzumi A, Mohney RP, Hattori N. Identification of novel biomarkers for Parkinson's disease by metabolomic technologies. Journal of Neurology, Neurosurgery, and Psychiatry, 2016, 87:295-301
Funayama M, Ohe K, Amo T, Furuya N, Yamaguchi J, Saiki S, Li Y, Ogaki K, Ando M, Yoshino H, Tomiyama H, Nishioka K, Hasegawa K, Saiki H, Satake W, Mogushi K, Sasaki R, Kokubo Y, Kuzuhara S, Toda T, Mizuno Y, Uchiyama Y, Ohno K, Hattori N: CHCHD2 mutations in autosomal dominant late-onset Parkinson's disease: a genome-wide linkage and sequencing study. Lancet Neurol, 2015 Mar; 14 (3): 274-82.
Shiba-Fukushima K, Inoshita T, Hattori N, Imai Y: PINK1-mediated phosphorylation of Parkin boosts Parkin activity in Drosophila. PLoS Genet, 2014; 10: e1004391.
Hattori N, Mochizuki H, Hasegawa K, Nomoto M, Uchida E, Terahara T, Okawa K, Fukuta H. Ropinirole Patch Versus Placebo, Ropinirole Extended-Release Tablet in Advanced Parkinson's Disease. Mov Disord. 2020 May 12. doi: 10.1002/mds.28071. Epub ahead of print.
Other Specific Comments
The aims of this department is to develop the disease modifying therapy and extended-release carbidopa–levodopa therapy for Parkinson's disease.
The Commendation for Science and Technology by the Minister of Education, Culture, Sports, Science and Technology, Research Category, May 30, 2014
Link
Department of Neurology
Department of Drug Development for Parkinson's Disease