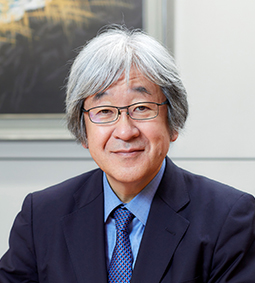 HATTORI Nobutaka, M.D., Ph.D. , FAAN
Department of Home Medical Care System based on Information and Communication Technology
Short Biography
1985-1986
M.D. Juntendo University Faculty of Medicine
Intern, Juntendo University Hospital
1986-1988
Resident in Neurology, Department of Neurology, Fuji, National Hospital
1988-1989
Assistant Professor of Neurology, Juntendo University
1990-1994
Ph.D. Juntendo University Graduate School of Medicine
1990-1993
Study Molecular Biology as a Special Graduate Student at Department of Biological Chemistry at the Faculty of Medicine, University of Nagoya
1994-1995
Medical Staff, Department of Neurology, Tokyo Metropolitan Ebara Hospital
1995-1998
Assistant Professor, Department of Neurology, Juntendo University
1999-2003
Lecturer, Department of Neurology, Juntendo University
2003-2006
Associate Professor, Department of Neurology, Juntendo University
2006-Present
Professor and Chairman, Department of Neurology, Juntendo University Faculty of Medicine
2019-Present
Dean, Faculty of Medicine and Graduate School of Medicine, Juntendo University
2020-Present
Team Leader, Neurodegenerative Disorders Collaborative Laboratory, RIKEN Center for Brain Science
Keywords
Parkinson's Disease
Telemedicine
Device Monitoring System
Home-adaptation
Main Research Topics and Interests
Parkinson's Disease
Home-adaptation
Publications (in English)
Original and Review Articles (792)
Books (16)
Citation Index (31,512)
h-index (77)
Recent Main Publications
Oji Y, Hatano T, Ueno SI, Funayama M, Ishikawa KI, Okuzumi A, Noda S, Sato S, Satake W, Toda T, Li Y, Hino-Takai T, Kakuta S, Tsunemi T, Yoshino H, Nishioka K, Hattori T, Mizutani Y, Mutoh T, Yokochi F, Ichinose Y, Koh K, Shindo K, Takiyama Y, Hamaguchi T, Yamada M, Farrer MJ, Uchiyama Y, Akamatsu W, Wu YR, Matsuda J, Hattori N. Variants in saposin D domain of prosaposin gene linked to Parkinson's disease. 2020 Apr 1;143(4):1190-1205. doi: 10.1093/brain/awaa064.
Mori A, Hatano T, Inoshita T, Shiba-Fukushima K, Koinuma T, Meng H, Kubo SI, Spratt S, Cui C, Yamashita C, Miki Y, Yamamoto K, Hirabayashi T, Murakami M, Takahashi Y, Shindou H, Nonaka T, Hasegawa M, Okuzumi A, Imai Y, Hattori N. Parkinson's disease-associated iPLA2-VIA/PLA2G6 regulates neuronal functions and α-synuclein stability through membrane remodeling. Proc Natl Acad Sci U S A. 2019 Oct 8;116(41):20689-20699. doi: 10.1073/pnas.1902958116.
Okuzumi A, Hatano T, Kamagata K, Hori M, Mori A, Oji Y, Taniguchi D, Daida K, Shimo Y, Yanagisawa N, Nojiri S, Aoki S, Hattori N. Neuromelanin or DaT-SPECT: which is the better marker for discriminating advanced Parkinson's disease? Eur J Neurol. 2019 Nov;26(11):1408-1416. doi: 10.1111/ene.14009.
Okuzumi A, Kurosawa M, Hatano T, Takanashi M, Nojiri S, Fukuhara T, Yamanaka T, Miyazaki H, Yoshinaga S, Furukawa Y, Shimogori T, Hattori N, Nukina N. Rapid dissemination of alpha-synuclein seeds through neural circuits in an in-vivo prion-like seeding experiment. Acta Neuropathol Commun. 2018 Sep 19;6(1):96. doi: 10.1186/s40478-018-0587-0.
Other Specific Comments
The aims of this department is to conduct a research of the home-adaptation by using information and communication technology (ICT) to improve the quality of life of the patients with Parkinson's disease (PD) by detecting problems with the multi-sensor tele-monitoring, and by intervention by the aspect of hardware and software in nursing homes for PD.
The Commendation for Science and Technology by the Minister of Education, Culture, Sports, Science and Technology, Research Category, May 30, 2014
Link
Department of Neurology
Department of Home Medical Care System based on Information and Communication Technology