ARIYAMA Noboru
ARIYAMA Noboru played an integral role in expanding and improving Juntendo University. He launched and developed the basic and clinical science research capabilities of the university, forming the research base of the present-day university. In 1947, along with the fourth director of Juntendo SATO Tatsujiro, ARIYAMA transformed Juntendo from a professional school to a university. He laid the foundation for a comprehensive health university by establishing a postgraduate and doctoral program in medicine in 1959, and a postgraduate school of physical education (currently the Graduate School of Health and Sports Science) in 1971. In 1967, he opened the second Juntendo affiliated hospital Izu Nagaoka Hospital (currently Shizuoka Hospital), expanding Juntendo University to regional areas. He also reformed Juntendo's nursing education system, setting up a nursing school that was predecessor to the Faculty of Health Care and Nursing.

The New Academic Structure of Juntendo University
In 1947, the Basic Act on Education required students complete a medical course at another faculty prior to entering Juntendo University Faculty of Medicine. To create an academic system that complied with the act, ARIYAMA Noboru created Juntendo University Faculty of Physical Education in 1951, with a Physical Education Course (Type I) and a Medical Course (Type II).



Reason Behind the Establishment of the Faculty of Physical Education
In February 1951, ARIYAMA Noboru wrote: "As part of our civic responsibility, we have an obligation to promote social health by not only training physicians, but also developing leaders in physical education who have medical knowledge."
Narashino Campus
In May 1947, the Narashino Campus opened on the site of a former army house artillery regiment in Narashino, Tsudanuma-machi, Chiba. The barracks were refurbished for use as school buildings.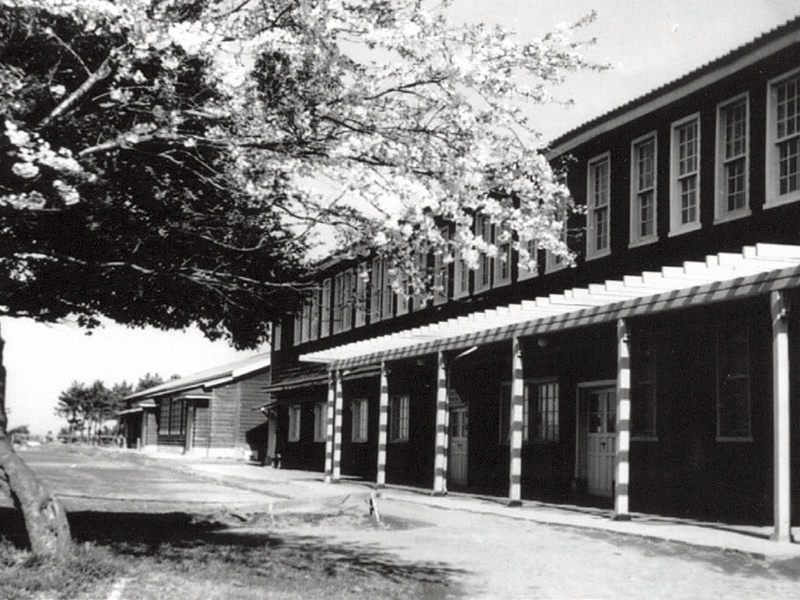 Expansion of Hongo Campus
​​To increase the number of available facilities a branch hospital building in Akasaka was relocated to the Hongo Campus. The building was later moved to Juntendo University Koshigaya Hospital. The United States donated steel buildings the year following the Great Kanto Earthquake. Buildings Number 1 and 3 were moved to the Narashino Campus.
Nursing Education Reform
The academic structure of the nursing education at Juntendo was repeatedly reorganized and improved to adapt to legal reforms introduced following the war. Education aimed at teaching nurses about the skills and compassion needed to understand and consider the feelings of patients.
Shizuoka Hospital
Izu Nagaoka Hospital (below, right) at the time of its inception. Current photo of Juntendo University Shizuoka Hospital (below, left).